The HIUG are currently trying to organise Training workshop Nationally.  Please see events for further information.
Currently we have confirmed Training to take place at the following:
Sligo           07/02/2015
Limerick    14/02/2015
Dublin        21/02/2015
Clonmel      07/03/2015
We hope to see as many users as possible at these Training Workshops.  Remember, the training is there for you all.  The benefits of going to Training meetings is clear.
Your HealthOne system will work as it is designed to work once you know how to work it.
As you have probably realised by now, the 'Flu Season' is now in full swing.
For those practices who are part of the 'Disease Surveillance' network, it is vital that we get your returns on time.
Generally speaking, the timeliness of returns have been much better this year.  This is probably down to the new search function that HealthOne initiated last year.  Also, timeliness has become critical and as a result, the ICGP now deduct a percentage of the fee if the timeliness of a practice has been lower than 90 per cent.
For more details on this years Influenza facts and figures, You can check the HPSC Influenza Surveillance Reports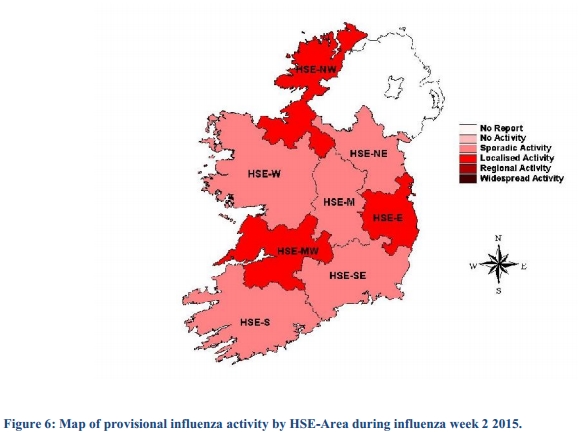 Update 7.3.0.1629

We have today released the latest version of Health one ie version 7.3.0.1629. This is now available via the
Liveupdate.
You can access the Liveupdate by clicking "help/ web-update" from within Healthone. It may also be that you are
getting the versions automatically if you have set the option to do so via "Tools / Options / Live update.
Every PC should be updated.
These features will be shown in detail at our forthcoming HIUG training meetings which a re listed below.
Drug module:
Patient information – text now only displayed for current patient
PRN drugs – Drugs can be flagged as PRN in repeats and not printed by option
Controlled drugs can be tagged as "handwritten" and prescription report allows these drugs to be printed to
the right with space on the left for hand writing. Handwritten drugs will always appear at the end of the
prescription list in the transaction
Dispense specific brand – drugs can be tagged such that the printed prescription contains the text "Do not
substitute"
Prescription reviewed – New button over the repeats list allows the user to record that the repeats have
been reviewed. New item then entered to the transaction "medication review". The name of the reviewer is
also displayed.
Date of the first prescription of a repeat is now visible in repeats window
Sort repeats now by column
Drugs by disease – Can associate a disease to a drug and view in repeats.
Any drug can now be linked to a disease either when prescribing (edit window) or directly from the repeats
window.
Electronic Referrals –functionality availability controlled by Health Link
Electronic General referral now possible for the following Hospitals in the HSE south [CUh –Mallow –
Mercy]. It is already available in Tallaght
If you are interested in participating in this project, please contact Healthlink directly by going to
www.healthlink.ie
Mediforms – several bugs addressed
Data "creeping" when mediform is re-edited and new information entered – Solved
Following Mediforms have been updated and are available via liveUpdate
Diabetes Review 17
Weight
Blood pressure CVS
CIPC (Councelling in Primary Care) – new mediform available since version 7.2.6.1617